Strachan Family Convention of 2014
Election of a New Commander


Revival of Clan Strachan
** See pictures and videos of the entire week's events **
Clicking this link will open a new tab in your browser.
Updated 27 April 2014.

29 April 2014: PRESS RELEASE - LORD LYON APPOINTS NORTH-EAST MAN
AS COMMANDER OF CLAN STRACHAN

* Article, The Scotsman Newspaper, 1-May 2014 - Click Here
* Article, San Diego UT Newspaper, Sunday Edition, 25 May 2014 - Click Here
* Article, Scottish Field Magazine, June 2014 - Click Here
* Article, Scottish Banner Newspaper, June 2014, page 4. - Click Here
* Article, Scots Heritage Magazine, Fall 2014 -Click Here
---

The Scotsman, 1 May 2014

A Family Convention, or Derbhfine, is an official meeting held under the supervision of the Court of the Lord Lyon in Edinburgh, Scotland. It is a meeting of "Leading Members of the Family or Name in question," which generally includes Scottish Armigers, Scottish landowners and other property owners, as well as other eminent and professional individuals. The Attendees of a Family Convention should be across a broad geographical region, with strong representation in Scotland. All Attendees to a Family Convention need to be found acceptable by the Court of the Lord Lyon's appointed Supervising Officer.
There are a number of circumstances in which it would seem appropriate to hold a Family Convention, but generally it is when a Scottish Family (aka Clan) no longer has a Clan Chief recognised by the Sovereign of Scotland. This generally occurs when the Chief dies without heir to his Name and Arms.
From a historical perspective, the last cadet line of the chiefly stem was Strachan of Thornton. In 1659, Thornton Castle and the Baronetcy of Nova Scotia was succeeded by collateral succession through an extremely remote relative, James Strachan of Inchtuthill. In 1683, he sold the Castle and Mains of Thornton to his wife's father, Robert Forbes, for the tidy sum of £13,934 14s 8d, and James resigned his own interest in favour of his wife (Barbara Forbes).
Shortly thereafter, heraldic evidence shows the family relocated to London, and it appears the family line began to fail, lacking successive male primogeniture heirs. The Baronetcy of Nova Scotia itself falling to a number of soi-disant claimants.
As for Clan Strachan, the last individual who could have claimed the chiefship was Admiral Sir Richard John Strachan, R.N., Baronet of Nova Scotia, and Representor of Thornton. Sir Richard died in 1828 without male heir.
During the prior 145 years the family resided in or near London, and in all likelihood saw themselves as more English than Scottish. Moreover, given the cultural divide with the Highlands at the time, it is likely the last several generations of the family would have renounced any claims of a "Scottish Chiefship." Even before the Battle of Culloden in 1746, highlanders were seen as outlaws and traitors to the Crown by Scottish by the Lowlanders and the English. After Culloden, the clan system itself came under attack, and was outlawed by the government.
It was 14 years after Sir Richard's death that Queen Victoria first visited Scotland in 1842. Queen Victoria fell in love with the Highlands so much she and her husband, Price Albert, returned annually. In 1852, the Queen purchased Balmoral Castle, which is very near the traditional ambit of the Strachan District. This sparked a Highland revival, and largely wiped away centuries of hatred and bigotry. The tartan, which among other things had in the past been banned, were now being produced in mass quantity. People who had vilified highlanders, were now seeking to prove their genealogical links to Scotland.
There is no doubt that Queen Victoria is responsible for the creation of the modern clan system.
About 12 years after the death of Sir Richard, one Mr. John Strachan of Cliffden, Teignmouth, Devonshire, preferred a claim to the representation of the House of Thornton, and passed through a form of service before the bailies of the Canongate. In his claim or brief, Strachan of Cliffden sought to instruct his descent from Roger Strachan of Glichno, brother of John Strachan of Thornton, great-grandfather of the first Baronet. Roger Strachan was set forth as father of Dr. Robert Strachan, physician in Montrose, whose son John was minister of Strachan. George, a son of the minister, was represented as a merchant in Montrose, and father of James Strachan, Lieutenant R.N. father of the claimant. This statement of pedigree, unsupported by evidence, and in entire variance with chronological requirements, being [surprisingly] accepted by a friendly jury, and certified by the Canongate bailies, formed the basis of a retour in Chancery, bearing date 8th November 1841. Mr. Strachan of Cliffden, styled thereafter as Sir John Strachan, Bart. died June 1844, leaving two sons. John, the elder, died 20 January 1854, s.p. James Graham, the younger son, died unmarried. Both of these sons died without issue, and thus came an end to the Barontecy of Nova Scotia (1854); which never would have asserted itself but for the absurd facilities afforded by the law then existing in Scotland. (HG viii, p. 306) Because of the lack of genealogical proofs, the Strachan of Cliffden line is not recognized as being the rightful and legitimate Chief of Strachan, and as you can see appears to have been quite fortunate to have even claimed the Baronetcy itself.
Therefore, the Chiefship of Clan Strachan lay officially dormant for nearly 186 years, and has likely long been renounced for prior centuries.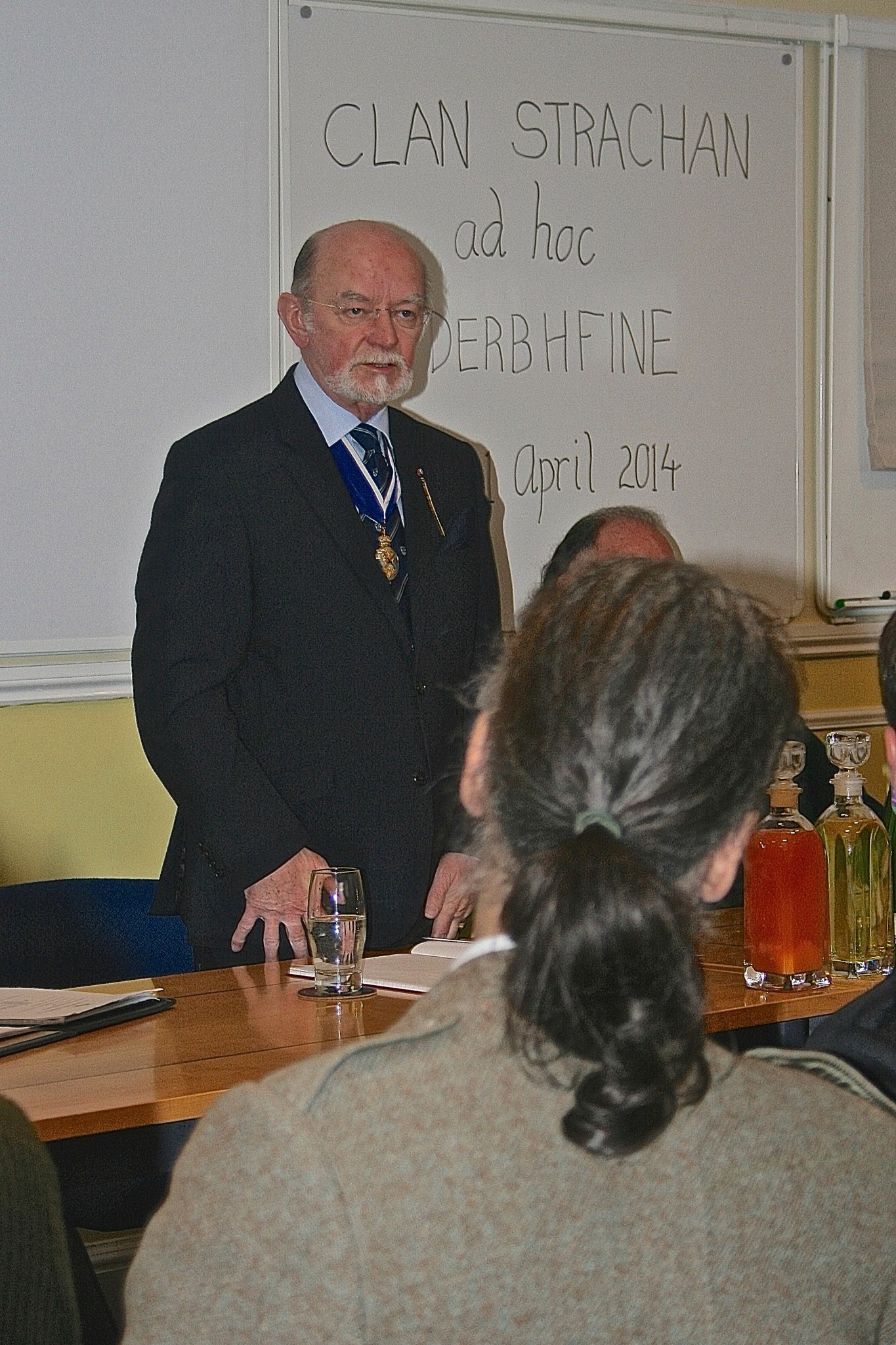 Charles J. Burnett, Ross Herald Extraordinary
Appointed Supervising Officer to the Strachan Family Convention
On Friday, 11 April 2014, a Strachan Family Convention (or "Ad Hoc Derbhfine") was held at the Royal Scots Club, Edinburgh, Scotland. There were 21 Attendees at the Family Convention from multiple continents. These included nine residents from Scotland, two from England, seven Americans, two Canadians, and one Australian.
Charles J. Burnett, Esq., Ross Herald Extraordinary, an Officer of Arms at the Court of the Lord Lyon, and the appointed Supervising Officer of the Strachan Family Convention began the meeting by eloquently explaining that these proceedings were a democratic process by which a Scottish Clan chooses an individual as their leader and Representor, and who after serving as Commander for a period of time may eventually become hereditary Chief of the Name and Arms.
Mr. Jim Strachan, Co-Founder of the Clan Strachan Society, and a Scottish Armiger of Clan Strachan next spoke about the Society's nine year struggle to bring legitimacy and return honour to the Name of STRACHAN, as well as various efforts and procedures leading up to the day.
Mr. Strachan explained that in May 2013 a worldwide conference call was held among those authorised by the Court of the Lord Lyon to attend the Derbhfine. He explained that there were three competitors to the chiefship, and each competitor was mutually supportive of the others; as well as the will of the Derbhfine Council. The conference call concluded amicably with unanimous consent to propose Rob Strachan as Commander.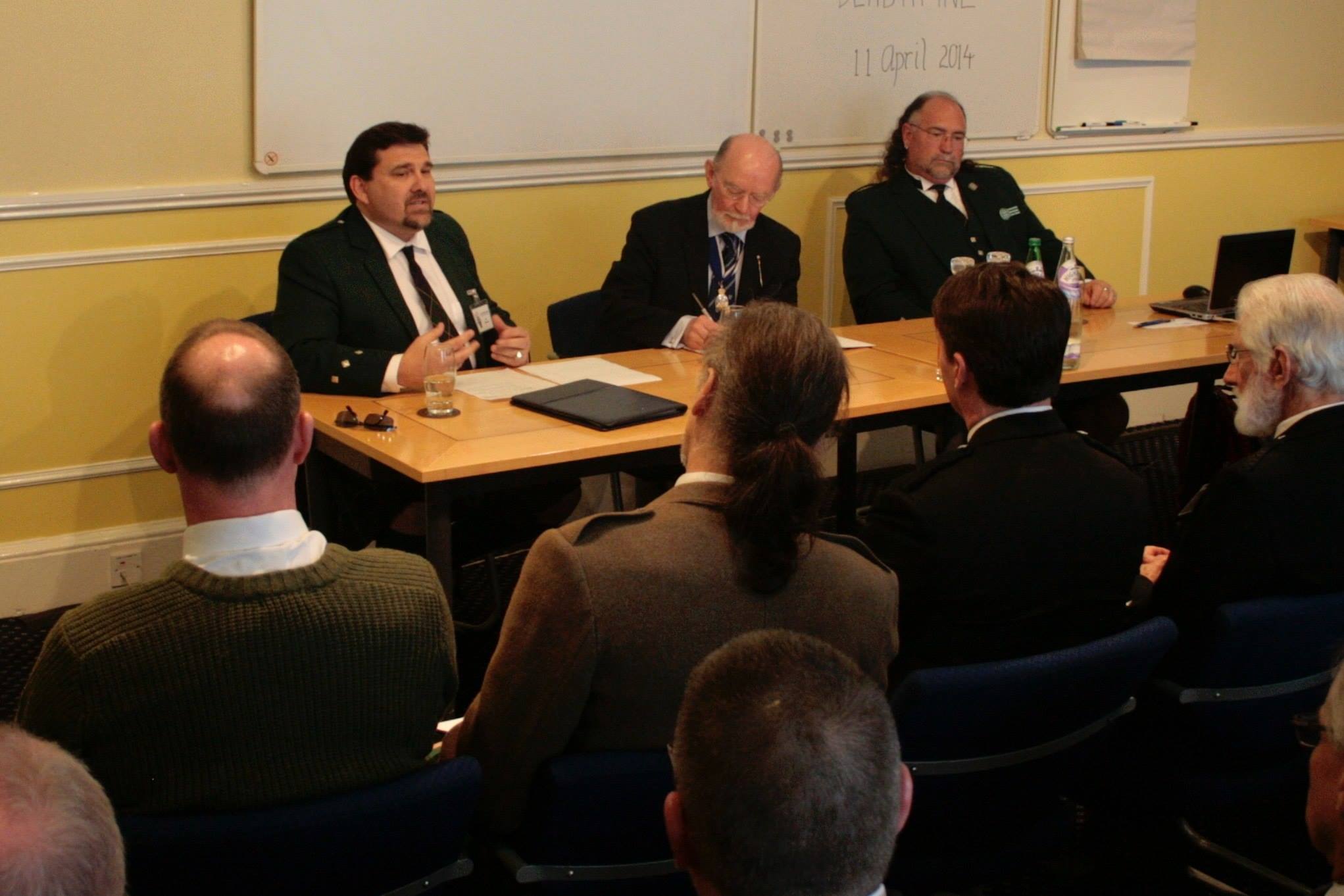 Strachan Family Convention (in Progress), Mr. Jim Strachan giving a speech.
Font Desk, from left to right: Jim Strachan, FSA Scot; Charles J. Burnett, Ross Herald Extraordinary, and Dennis Strawhun.
Click to enlarge image
Mr. Burnett then addressed the Strachan Derbhfine, and asked various attendees their thoughts and also inquired as to any dissenting opinions. After some exchange of comments among the Attendees it was quite apparent that the Derbhfine Council unanimously supported Rob as Commander, and Luke Strachan as his heir in Name and Arms.
Rob was then called to give a brief speech about his vision for the clan. In a bit of brilliant diplomatic gamesmanship, rather than dictating from the top Rob asked the Derbhfine Council their expectations of him, and what our shared vision for Clan Strachan might be?
Again, after a brief exchange, Mr. Burnett called a conclusion to the meeting. Mr. Burnett then confirmed to the Attendees he would file a report and recommendation with the Lord Lyon that Rob Strachan, with unanimous consent of the Family Convention, would be recommended as Commander of Clan Strachan.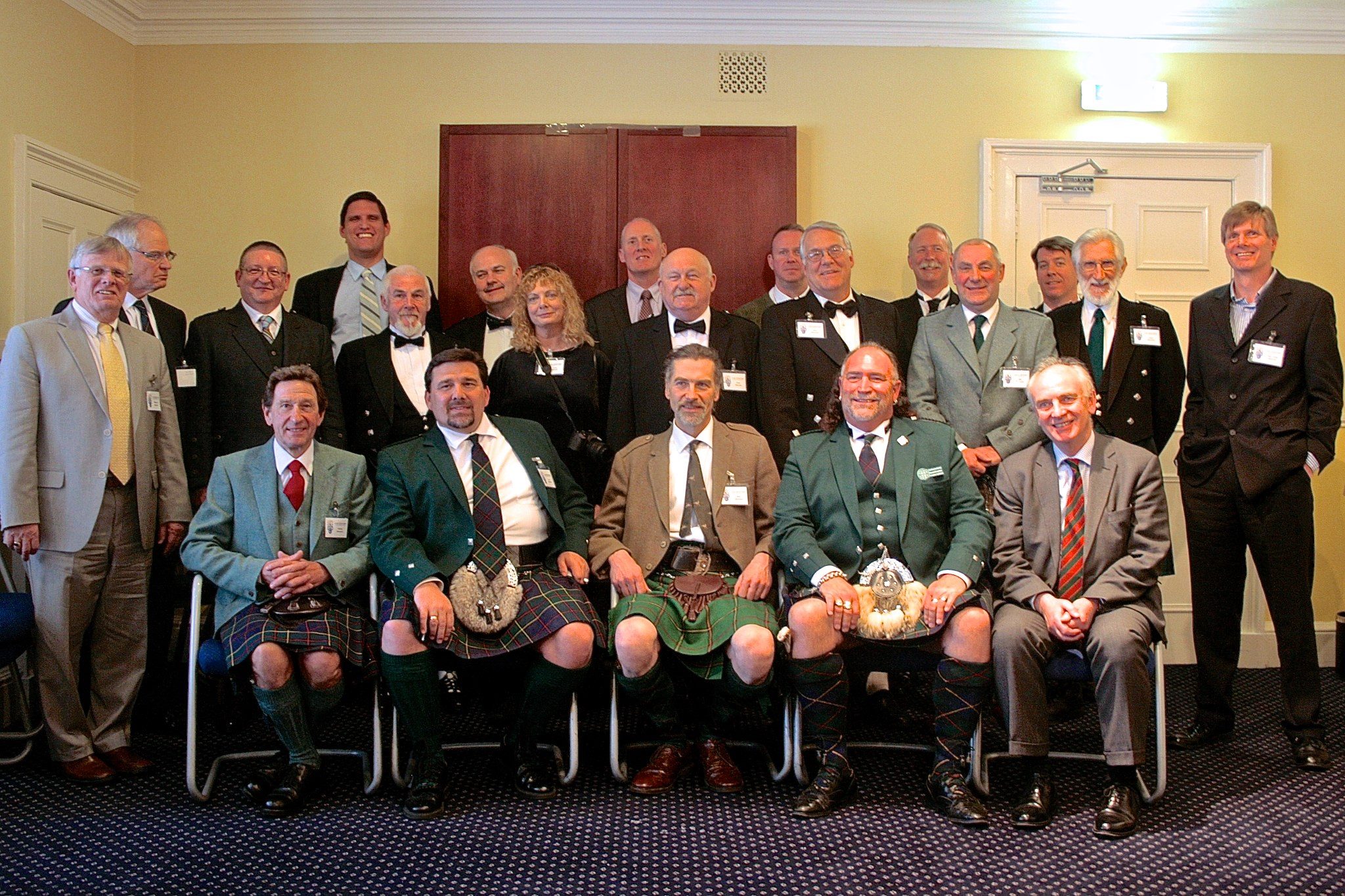 Click to enlarge image
Back Row:
Walter Strachan, Dr. T.Martin Strahan, Stuart Strachan, Mike Strahan, Walter Strachan, Garry Strachan, Judy Strawn, David Strachan, Drew Strachan, Richard Strachan, John Strachan, Mike Strawhun, Bill Strachan, George Strachan, Lloyd Strachan and Capt. Les Strachan
Front Row:
Roddy Strachan, Baron of Benholm; Jim Strachan, Rob Strachan, Dennis Strawhun, and Professor Sir Hew Strachan.
After the Family Convention, a dinner at the Royal Scots Club was held. The dinner was publicized in the June 2014 issue of the Scottish Field Magazine (see below).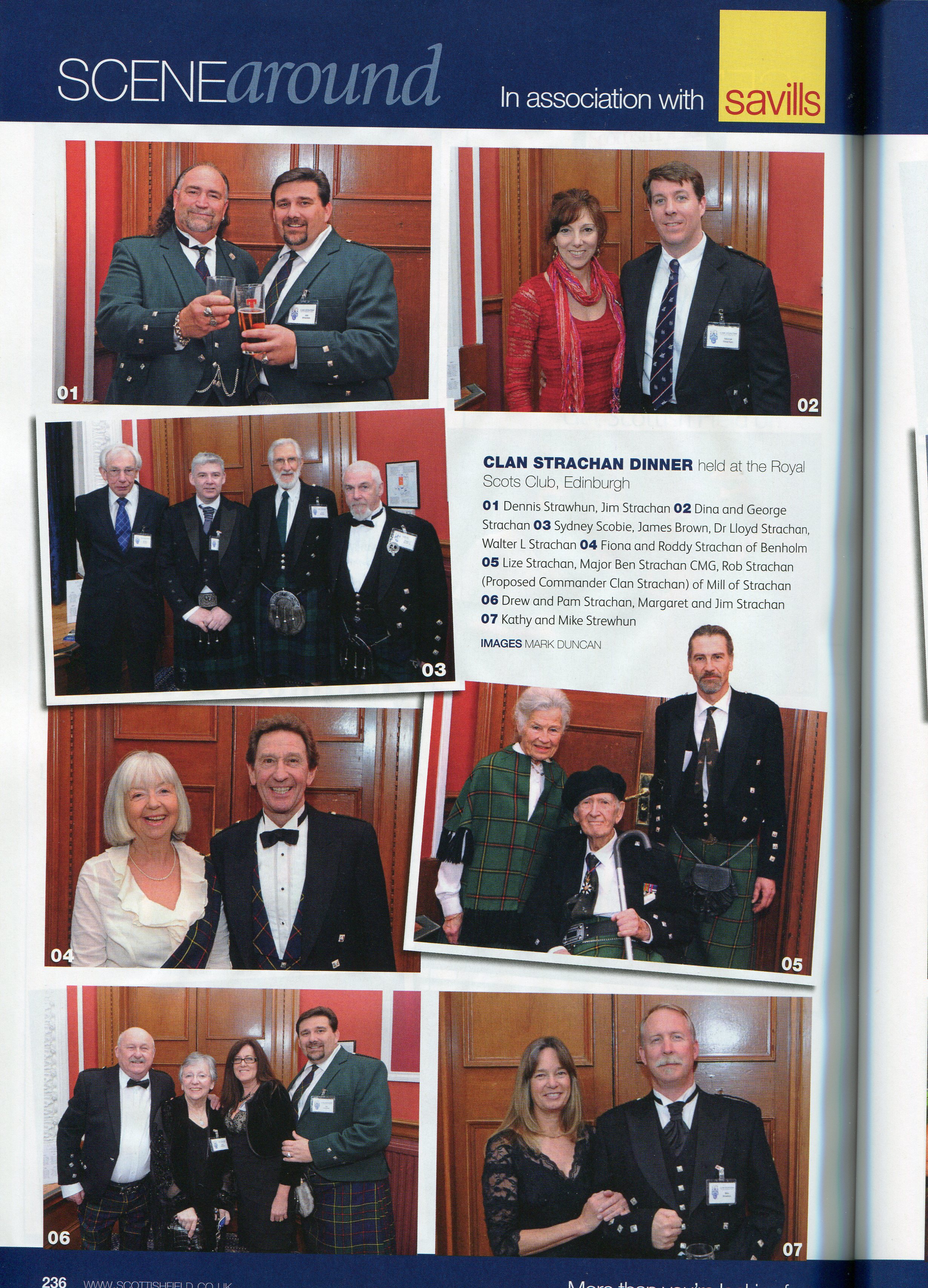 The dinner was attended by over 80 Strachans and other guests.

Clan Strachan Ad Hoc Derbhfine of 2014 - Dinner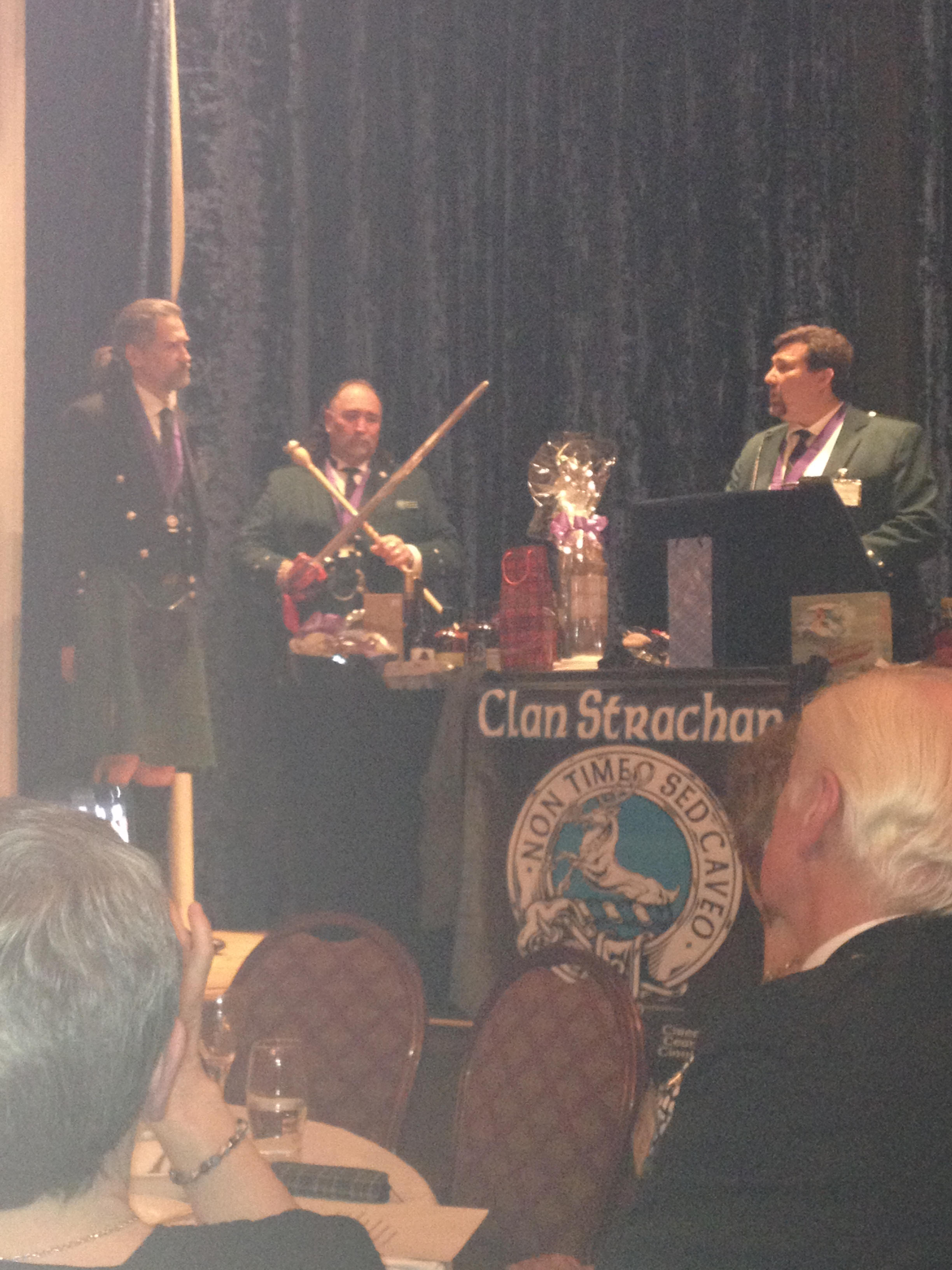 The Clan Sword and White Rod, symbols of Chiefly power and judicial authority were given to Rob Strachan as Chairman of the Clan Strachan Charitable Trust by the two Co-Founders of the Clan Strachan Society, Jim Strachan and Dennis Strawhun. Pictured from left to right: Rob Strachan, Dennis Strawhun, and Jim Strachan.
Various other awards were given throughout the evening, including the Order of the Hart, which is the Society's highest honour.
The Clan Constitution was signed, and near the end of the evening Rob created the Clan Council for Clan Strachan, which is the worldwide governing body of the family.
On Tuesday, 15-Apr 2014, Mr. Burnett submitted his report to Dr. Joseph J. Morrow, Lord Lyon King of Arms, with a recommendation to recognise Rob Strachan as Clan Commander.
On 23 April 2014, the Dr. Joseph J. Morrow, Lord Lyon King of Arms signed a warrant appointing Rob as Commander of Clan Strachan. [Ref. 29-APR 2014 Press Release]
On 1 May 2014, the Scotsman Newspaper ran the above story. Articles were also ran in the Scottish Banner, the Aberdeen Press & Journal, and others.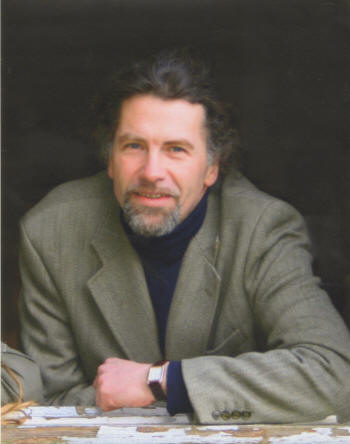 Charles Robert Lund Strachan
Commander of Honourable Clan Strachan
---
Below are individuals who attended and participated in the Ad Hoc Derbhfine of 2014.

---



James Andrew (Jim) Strachan, BA, MBA, FSA Scot
Co-Founder, Treasurer, and past Convenor and Deputy Convenor of the Clan Strachan Society;
Trustee, Clan Strachan Charitable Trust
Temecula, California USA



---

Sir Hew Francis Anthony Strachan, Knight, MA, PhD, DL (Tweeddale), Hon D Univ (Univ of Paisley), FRSE, FRHistS
Laird of Glenhighton Farm, Broughton, Biggar, Scotland



---

T. Martin Strahan, MB BS, DrPH, FRACP, FAFPHM, FACPM
Member and Director, Clan Strachan Society
Trustee, Clan Strachan Charitable Trust
Bundaberg, Queensland, Australia

---

Roderick Strachan of Benholm, Baron of Benholm
Member, Clan Strachan
Trustee, Clan Strachan Charitable Trust
Benholm Castle, Scotland



---

James Andrew (Drew) Strachan (RA-Ret)
Member, Clan Strachan Society
Elgin, Moray, Scotland



---

Charles Robert Lund (Rob) Strachan, Proposed Commander
Member, Clan Strachan Society
Convenor and Trustee, Clan Strachan Charitable Trust
Mill of Strachan, Strachan, Aberdeenshire Scotland
*Petition for Arms in the queue at the Court of the Lord Lyon



---

Dennis Craig Strawhun
Co-Founder & current Convenor of the Armigerous Clan Strachan Society whose Arms are shown here.
Carlsbad, California USA



---

Garry Strachan
Cert. Genealogist. IHGS, Member AGRA, Member APG
Member, Directory, and Clan Genealogist, Clan Strachan Society
Daventry, England



---

Michael Ray Strawhun, BA
USAF, Civilian Firefighter
US Forestry Service, Battalion Chief
US Federal Wildland Fire Incident Command System (ICS)
Incident Commander and an Operations Section Chief
Member, Director and Regional Commissioner, Clan Strachan Society
Ojai, California, USA


---

Judy Carole Strawn, BA
Who's Who
Member & Director, Newsletter Editor, Clan Strachan Society
Los Angeles, California, USA


---

Michael George Strahan, BA, MBA
Deputy Convenor, Clan Strachan Society
Fishers, Indiana, USA



---

Dr. Lloyd W. Strachan, BSA, MS, PhD
Member, Director and Regional Commissioner, Clan Strachan Society
Ashton, Ontario, Canada



---

William (David) Strachan,

(

BSc MA VetMB PhD MRCVS)
Mill of Keig, Keig, Alford, Aberdeenshire Scotland



---

John Sublet Strachan
Member of the Clan Strachan Society
Highlands Ranch, Colorado, USA



---

John (Stuart) Strachan
Member of the Clan Strachan Society
Glasgow, Scotland




---

Capt. Leslie Strachan (SAAF-Ret)
Kent, England



---

Walter George Strachan
Member, Clan Strachan Society
Nova Scotia, Canada




---

Richard John Strachan, Senior Archeologist, Historic Scotland
Member, Clan Strachan Society
Dunbar, Scotland



---

William Strachan
Member, Clan Strachan Society
Glennoch Tighphuirt, Glencoe, Scotland



---

Walter Lewis Strachan (Black Watch TAVR - Ret)
Member, Clan Strachan Society
Dunfermline, Scotland



---

George Duncan Strachan
Sewell, New Jersey, USA



---